What Our Clients Think
Richard is a gentleman. So kind, caring and so understanding. We are indebted to him for his sincerity. Thank you Richard at the most difficult time of our lives xx
Jennifer Mary
Funeral Services | Porthcawl
Richard, Sarah and all the staff at Porthcawl Funeral Services were absolutely amazing, caring and supportive. They were so helpful with us planning the funeral and took so much stress of us all. They are so kind and will be grateful for everything they did for us. No one else could of done better. Would definitely recommend. Thank you so much to everyone at Porthcawl Funeral Services.
Elisha Pritchard
Funeral Services | Porthcawl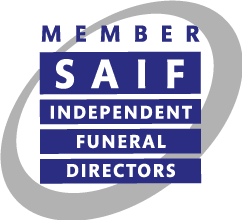 To demonstrate our commitment to excellence, we are proud members of the SAIF.

Give your family peace of mind with a funeral plan from Golden Charter